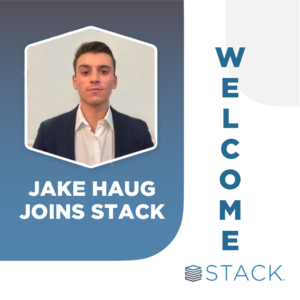 STACK Hires Pharmacy Sales Executive
Pittsburgh, PA (10/12/23) – STACK announced today that Jake Haug, has joined the organization as our Pharmacy Sales Executive.
Jake joins the team at an exciting time, when STACK's two platform offerings (STACK and OnQueue) continue to add new features and functionalities that will benefit companies looking for operations-driven solutions.
"I am thrilled to be a part of the Stack team and embark on this journey to revolutionize healthcare operations. With our cutting-edge software solutions, I'm eager to not only meet the industry's needs but to redefine the way healthcare operates. Together, we will make a lasting impact, improving patient care and streamlining healthcare processes," said Jake.
"We are so excited to have Jake join the team," said Jonathan Ogurchak, CEO of STACK. "Our growth has historically been organic and word-of-mouth, so to have enthusiastic efforts to spread awareness of our platforms is incredibly exciting."
Jake, a recent graduate from the University of Maryland, is a dedicated professional with an internship background in sales and marketing within the life sciences industry. His experiences have honed his skills and industry knowledge and he is thrilled to embark on a new chapter. He aspires to leverage his expertise in the healthcare software sector, driving innovation and improving healthcare operations.